Maciej Łysakowski
Attorney at law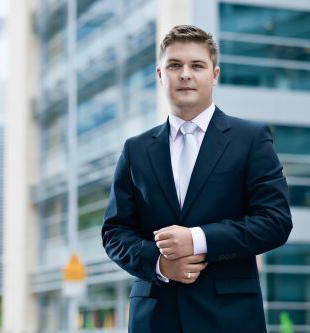 Maciej graduated from the Faculty of Law and Administration at Warsaw University in 2011. He is a finalist of the 12th and 13th edition of the Olympiad on Human Rights' Knowledge. He has been gaining his experience in legal work since 2010 working as a lawyer and then as a barrister's trainee in Warsaw law firms. He's been in the Law Firm's team since 2012.
In January 2012 Maciej began barrister's training at the District Bar Council in Warsaw and in June 2015 he was inscribed on the list of attorneys at the District Bar Council in Warsaw.
Maciej specializes in public procurement law, in which he successfully represents Clients in cases referring to multimillion contracts before courts and the National Chamber of Appeal (KIO). Before the KIO he represented both contracting authorities – public institutions (eg. Prosecutor General's Office) and contractors applying for public procurement (also in cases where the complaint was filed on the KIO's ruling). Author of press publications in the field of public procurement law.
Maciej coordinates legal services to Clients in the current functioning of a company, with particular emphasis on issues related to labor law and social security – both at the pre-trial stage and proceedings, including taking into account the relationships concluded under foreign laws.
In addition to his practice Maciej handles with the preparation of legal opinions, he also prepares and issues opinions on different types of contract, and he's engaged in transactions in the property market – with particular emphasis on the study of the legal status of the property.